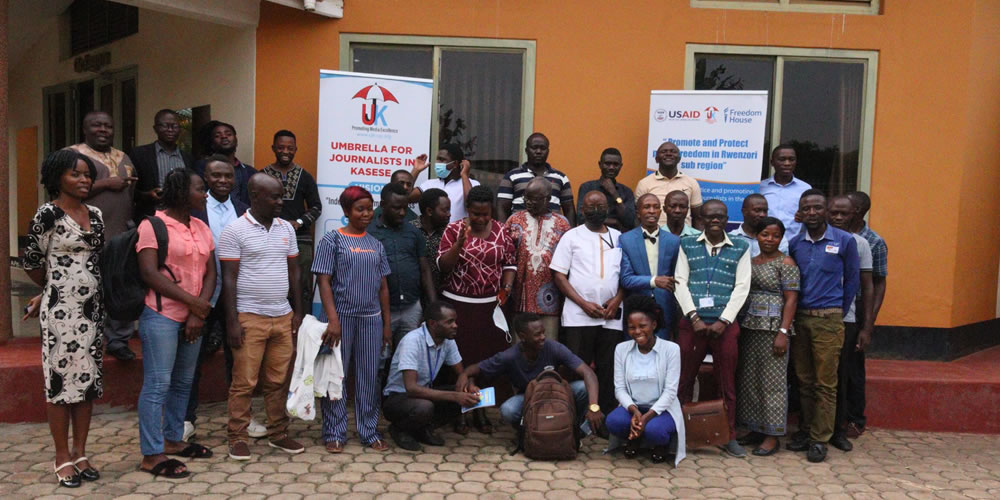 UJK Launches a Five Month Project to easy access to justice in Rwenzori Sub Region.
Kasese District in Rwenzori sub region has been characterized by violent cultural and political conflict over the years, contributing to shrinking civic space.
The violence is caused by misunderstandings and misconceptions between the state and dominant local cultural institutions, and the resultant clashes have left scores of deaths, arrests, disappearances, and detention of suspected culprits.
Due to this mutual suspicion, government has increasingly limited freedom of expression and association, press freedom and access to information in the region, which is the cornerstone of good governance, democracy, and development in general.
These developments have grossly affected the press freedoms in the Rwenzori sub region, where journalists have been victims of trumped-up charges, arrests, intimidation and assault.
It is against this background that a project code named, "promote and protect freedom of press in Rwenzori sub-region" is being implemented by Umbrella for journalists in Kasese (UJK), a media association in Kasese with support from Freedom House under USAID/Rights and Justice Activity to easy access to justice and promoting the wellbeing of journalists in the Rwenzori sub region.
The five-month project is serving media practitioners, freelance journalists and bloggers in Kasese, Bunyangabu, Kabarole and Bundibugyo districts.
Under this project, journalists, freelance journalists and bloggers will be provided with free legal aid and medical support whenever they get challenges while on duty.
The project also provides a coordinated response mechanism to violations of the rights of journalists in Rwenzori sub region and offers platforms for dialogue and sensitization on media freedoms.
The UJK coordinator Saimon Bikeke, says the project is a big relief to many journalists who have been imprisoned or got accidents while on duty and no one was their to help them get services.
He is optimistic that the project may extend further if journalists utilize it and show a need for more help.
//
The project officer, Basaija Idd mentions that the project is designed to help all active journalists in the region regardless of their subscription to other media associations.
He says it's also platform that will help media persons get training from experts on responsible reporting and utilization of their freedom.
//
Thembo Misairi Kahungu, a senior Journalists says media freedom and press freedom have not been fully enjoyed despite existence of laws.
He argued that a number of cases of violation meted against journalists have been witnessed especially when they try to cover critical situations giving an example of what happened at office of the high commissioner of human rights in Kampala.
He is optimistic this opportunity will go a long way to help journalist be skilled on how to utilize their freedom. End