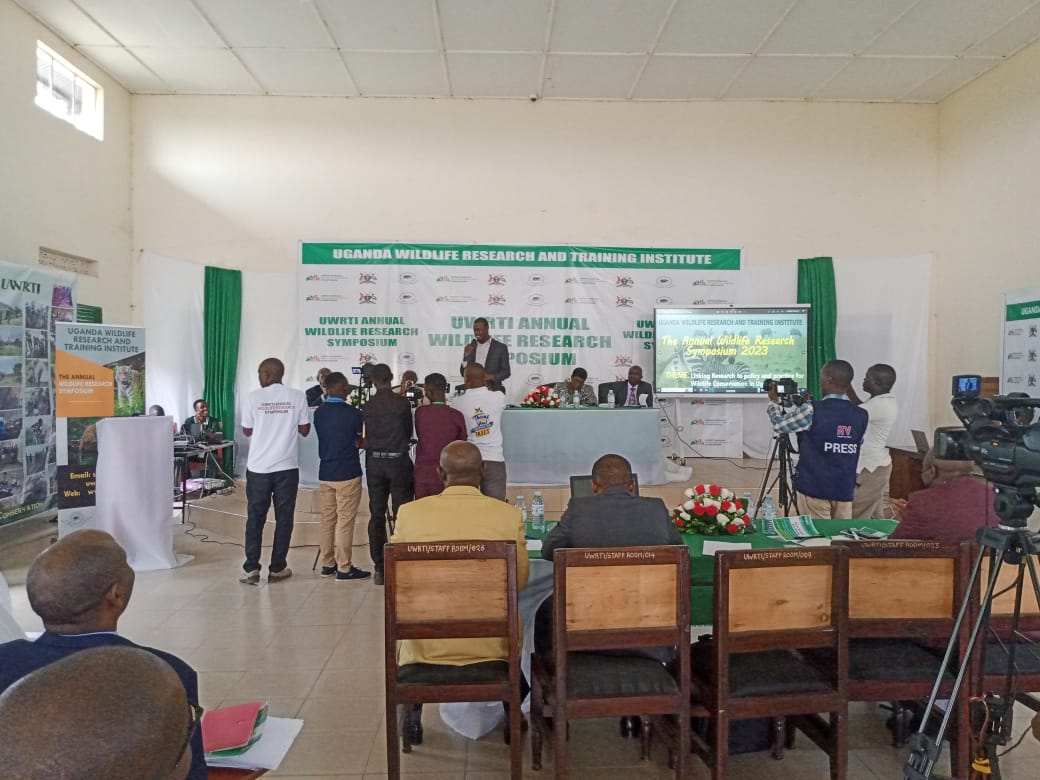 First Wildlife Research Symposium; Ministry of Tourism Pledges to Support UWRTI
By; Basaijja Idd
The Ministry of Tourism has promised to support the Uganda Wildlife Research and Training Institute (UWRTI) to enhance the Institution's research activities.
The institute located at Katwe-Kabatoro in Kasese District is mandated to provide research, training, and consultancy services in the wildlife sector.
State Minister for Tourism, Martin Mugara Bahinduka said the development of the tourism sector and conservation of nature can only happen if there is a commitment to conduct research.
He was the chief guest at the first annual wildlife research symposium at the institute in Kasese.
He said it's been unfortunate that many people have conducted vital research notably for academic purposes but their findings are never shared with the government or any agencies.
Uganda Wildlife Research and Training Institute is the only middle-level institution that provides professional and technical training in Wildlife and Tourism Management.
It also offers tailor-made courses in conservation and sustainable development of wildlife and natural resource management.
Queen Elizabeth National Park and other national parks in the country are battling a number of invasive species that are threatening wildlife habitats.
The Auditor General in a report in 2021 found that 11 invasive and exotic plant species threatening conservation efforts team in Queen Elizabeth, Lake Mburo, Murchison Falls, and Kidepo Valley National Parks.
Some researchers in the country and at the Institute are conducting research on how to control invasive plant species Dichrostachys cinerea, Lantana Camara, and Parthenium hysterophorus in order to stem the reducing populations of grazer wildlife like Hippos, Buffalos, Zebras, Topis, and Uganda Kobs.
According to the Minister, the current progress in the environmental sector is heavily dependent on the application of research and new innovations.
Robert Baluku, the principal of UWRTI said the symposium brought different researchers together to share what they have been doing.
Baluku said the institution has the capacity to do research that doesn't only benefit the tourism sector but the entire government in its planning.
He noted that the government has improved the UWRTI funding from the annual 3 billion to 5.1 billion with the 2bn meant to support research programs.
Professor John .M. Kasenene who was the key note speaker at a function held at teh Institutte in Katwe-Kabatoro Town Council said it's important for the government, companies, and organizations to consider research findings and recommendations in decision-making.
He urged higher institutions of learning, including learners to engage in research and innovations urging that it helps in the socio-economic transformation.
The Katwe-Kabatoro Town Council LCIII,  John Bosco Kananura, hailed the Institute urging that research can present varying solutions to ending many challenges notably human  wildlife conflicts around conservation areas.
Bosco Atukwase who has conducted research on Glossina species and their distribution in the selected areas northern of Queen Elizabeth National Park said it's unfortunate that many institutions are struggling to address certain challenges and yet there is research that would help them.